---
---

| | | |
| --- | --- | --- |
| | Allen Iverson : Nets ruin Allen Iverson's debut with Pistons, beating Detroit 103-96 | |
Posted by Dal on

---
It looked like an easy win for Detroit at the start.
Iverson stepped right in, joining Hamilton in the Detroit backcourt, replacing Rodney Stuckey. He got a rousing cheer from the crowd at the Izod Center when he was introduced with the starters.
But New Jersey, which trailed by as many as 14 points in the first half, played some of its best basketball of the season in the final two periods to hand the Pistons their first loss after four wins to open the season.
AI's Line: 24pts, 6ast, 6-12FG, 37min
---
(Read More... | Score: 5) | Reads: 800

Posted by Dal on

---

Allen Iverson was traded from Denver to the Detroit Pistons on Monday in a major NBA shakeup that could but both clubs in better position for a championship title.
The 33-year-old guard, in the final year of his $21.9 million contract, went to the Pistons while Detroit guard Chauncey Billups, forward Antonio McDyess and Senegalese center Cheikh Samb were sent to the Nuggets.
Iverson's Detroit debut delayed but Pistons win anyway
---
(Read More... | Score: 5) | Reads: 907

Posted by Dal on

---
Iverson has been playing with a broken finger since last week, but as most AI fans know...Iverson will play through the pain when necessary - especially now since the Nuggets are fighting for the 8th playoff spot.
Iverson (finger, knee) played 32 minutes and scored 28 points with five assists Friday night in Denver's blowout victory over Toronto.
---
(Read More... | Score: 5) | Reads: 2150

| | | |
| --- | --- | --- |
| | Nuggets : Allen Iverson's 51 not enough as Lakers beat Nuggets, 111-107 | |
Posted by Dal on

---
Iverson scored a season-high 51 points against Kobe Bryant and the Lakers in a loss. Iverson poured out 49 points in only the first three quarters, but was shut down in the fourth and held to only a layup. His teammates could not help the cause (Anthony, 4 for 10). Iverson also finished with 8 assists.
---
(Read More... | 676 bytes more | Score: 4.87) | Reads: 4820

Posted by Dal on

---
As the 2007-2008 NBA campaign is almost here Allen Iverson even though now living in Colorado should be starting to feel the heat. Last year preseason everyone new Allen Iverson or no Allen Iverson the Philadelphia 76ers were either about an 8 seed or less even in the lowly Eastern Conference. Then it happened Allen Iverson's demand was answered and the Denver Nuggets came calling. With half a year including playoff experience the expectations should be higher than it seems they are, and this team is only built to win now.

---
(Read More... | 4405 bytes more | Score: 5) | Reads: 2438

| | | |
| --- | --- | --- |
| | Nuggets : Iverson continues to set torrid pace as he leads Nuggets in rout | |
Posted by Dal on

---
Iverson continues to set torrid pace as he leads Nuggets in rout
Allen Iverson has one speed, as 6,349 fans at the Resch Center were reminded Tuesday.
The Denver Nuggets point guard goes full out against the wider and bigger bodies in the National Basketball Association, whether it's an exhibition game or Game 7 of a playoff series.ight.
Iverson contributed 22 points and six assists in playing 29 minutes in the Nuggets' 104-78 rout of the Milwaukee Bucks, giving the paying fans something to see.
"That's the way I play the game," Iverson said. "God gave me a talent, and I just want to make the best of it. You approach every game the same way. You never underestimate anybody else, regardless if you're playing against a winning team or a losing team."
---
(Read More... | Score: 4.5) | Reads: 2289

| | | |
| --- | --- | --- |
| | Nuggets : A Preview of things to come | |
Posted by Dal on

---
As the new season begins, there's a lot of good things to look forward to for the Denver Nuggets. The Nuggets found their stride near the end of last year's season (where the Nuggets won 11/12 games at one point), but unfortunately lost to the eventual NBA Champions, the San Antonio Spurs. However, the Nuggets showed us a glimpse of what they were capable of.
---
(Read More... | 1485 bytes more | Score: 0) | Reads: 2249

Posted by Dal on

---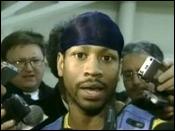 When Allen Iverson helped two college students in a car wreck in Virginia in August, few noticed his good Samaritan deed.
Now, roughly six weeks later, in the wake of a pending lawsuit against him, people are noticing Iverson and the bad publicity that seems to follow him.
That's just part of being A.I.
"I could do a million things positive and everybody would talk about the one negative thing," Iverson said. "I'm used to it and it don't bother me that people don't recognize, as far as you people and other people that don't matter. The only people that do matter is the people that I do it for, the charities, the people that benefit from it."
---
(Read More... | 1647 bytes more | Score: 4.85) | Reads: 3087

Posted by Dal on

---
Allen Iverson denied taking part in a 2005 Washington nightclub brawl, testifying Monday that two men who sued him for $20 million in connection with the fight want to cash in on his basketball fame. The plaintiffs say Iverson's bodyguard and other members of his entourage attacked them when they wouldn't immediately make room for the NBA star in the VIP section of the Eyebar.
---
(Read More... | 4817 bytes more | Score: 3.5) | Reads: 3678

| | | |
| --- | --- | --- |
| | Allen Iverson : Rapper 50 Cent Will Keep His Two Cents Out Of Iverson Trial | |
Posted by Dal on

---
NBA star Allen Iverson may have a rapper-like following of young fans all over the country, but he won't have Curtis Jackson III, also known as the rapper 50 Cent, testifying at his assault trial this month because of a federal judge's ruling on Friday.
Iverson's trial is the result of a lawsuit that originated when a fight between several members of Iverson's security detail and numerous patrons at a downtown bar took place in 2005.
---
(Read More... | 2051 bytes more | Score: 3.57) | Reads: 4035

| | | |
| --- | --- | --- |
| | Nuggets : Denver Nuggets Lose in 5 To San Antonio Spurs | |
Posted by Dal on

---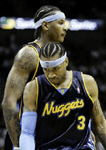 The Nuggets' post-season run came to an end, as the Spurs beat the Nuggets 93-78 in 5 games. It was one of Iverson's worst playoff performances, where he made just 31 of 92 shots, after scoring 31 in the their Game 1 win.
"I felt like this was the worst playoff series that I've played in my career," Iverson said. "It was kind of frustrating, coming into a new situation, wanting to be the one that gets this team over the hump, get them out of the first round. And to play like I'm not capable of playing is just frustrating."
But the outlook looks good for the Nuggets, we saw a glimpse of the Nuggets full-force near the end of the season where they won 10 of 11. Once they get a full training camp together, they could possibly be a top 1-2-3 seed in the West. Hopefully, they'll be able to keep Camby in the off-season, and have a healthy K-Mart come back in October.
---
(Read More... | Score: 3.44) | Reads: 3212

| | | |
| --- | --- | --- |
| | Nuggets : Iverson and Anthony Combine for 61 As Nuggets Steal Game 1 From Spurs on the Roa | |
Posted by Dal on

---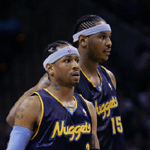 AI and Melo gave the San Antonio Spurs a surprise One-Two punch they never expected. Anthony scored 30 points and Iverson added 31 as the Nuggets steal Game One on the road. Nene added 13 points and 12 rebounds and Marcus Camby grabbed 10 boards. Denver entered the playoffs having won 10 of 11, and are playing their best basketball right now.
However, the Nuggets aren't celebrating just yet. Two years ago, they were in the same situation where they won game one, but lost the next four straight. Nuggets will need to stay poised to beat the Spurs in what will definitely be a tough series.
---
(Read More... | Score: 4.6) | Reads: 3658

| | | |
| --- | --- | --- |
| | Nuggets : Nuggets' Coach Karl wins in return to bench | |
Posted by Dal on

---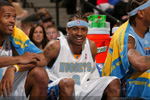 The Denver Nuggets coach returned to the team after spending two days with his son, who had surgery to remove cancerous lymph nodes.
"We were all aware of the situation, with his son and everything" Nugget forward Carmelo Anthony said after Denver's 120-115 win over Sacramento on Wednesday night.. "He settled us down by telling us all was well."
Melo had his 4th straight 30-point game scoring 31. Iverson had a double-double, with 16 points and 10 assists. Nuggets are now a half game behind LA Lakers for the 6th spot. But, do they want to play Phoenix or San Antonio in the first round? Check out the poll
---
(Read More... | Score: 4.2) | Reads: 3309

Posted by Dal on

---
BryanD writes "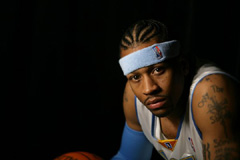 Many believe it is the subconscious opinions you formulate within the first 3 seconds of an encounter that controls 90% of your feeling towards that event.

Let's imagine you are sitting there at your computer and you login to AILive the find the title listed above. The vast majority of you will formulate an opinion, biased or not, about the content put forth. What is your impression? "The Face of the Problem," hitting the front page of a site covering one of the NBA's most enigmatic and convoluted figures, a player many may view as a petulant superstar spoiled by the riches and lifestyle the NBA affords their employees. What is the first you think?

The point is rather simple, and you're parents, teachers, mentors, and role models have been reinforcing this assertion since you were walking the earth with a diaper. Don't judge a book by its cover.

"

---
(Read More... | 10015 bytes more | Score: 4.63) | Reads: 5150

Posted by Dal on

---
AI Live is excited to introduce a new editor to our team, Bryan Douglass!
Bryan Douglass is the Managing Editor for Sports Enthusiasts Media and the Senior Editor of Sport Eye Publications, bringing various forms of coverage, analysis, and entertainment to the world of sports media (including websites like StatFox.com and FFChamps.com as well as publications like The Platinum Sheets and College & Pro Football Newsweekly). He's covered the NFL, NBA, NCAA football and basketball, and various other sports and topics since 1998 and continues to provide some of the best analysis and editorial insight in the industry today.
He resides in Denver where he and his family enjoy The Answer up close and personal. Feel free to drop him a line or share your thoughts via email, Bryan@alleniversonlive.com.
---
(Read More... | Score: 5) | Reads: 3419

| | | |
| --- | --- | --- |
| | Nuggets : AI and Melo clicking as Nuggets win 5 in a row | |
Posted by Dal on

---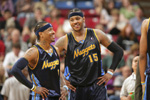 The Denver Nuggets have found their stride lately, with 5 straight wins against Sacramento, Portland, LA Lakers, New Jersey and a huge win over Phoenix, where they totaled 131 points against the league's highest scoring teams. AI scored 44 points and dropped 15 assists, and Melo had 29 pts. They showed how dangerous the Nuggets can be when their offence is at full-force.
---
(Read More... | Score: 5) | Reads: 4201

| | | |
| --- | --- | --- |
| | Allen Iverson : Nuggets still waiting for Anthony-Iverson to click | |
Posted by Dal on

---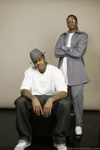 We all know by now, that AI will be missing in action this Sunday's All-Star game. However, his fellow superstar, Carmelo Anthony will be playing in his first All-Star game. They've actually only played 6 games together since Iverson came over from Philly. We still haven't seen the Nuggets at their full force, due to injuries and suspensions...Hopefully, the All-Star break will allow them to fully recharge and surge during the second half of the season.
---
(Read More... | 4212 bytes more | Score: 4.35) | Reads: 7164

Posted by Dal on

---
Allen Iverson appears to have his priorities in order.
The superstar guard of the Denver Nuggets said Tuesday he will use the All-Star break to rest his sprained right ankle, becoming the fourth member of the Western Conference team sidelined by injury.
"I'm very disappointed that I can't play right now," Iverson said. "I was really looking forward to representing the Nuggets in my first All-Star Game with the West. However, I need to make sure my ankle is 100 percent for the stretch run."
---
(Read More... | 2163 bytes more | Score: 4.71) | Reads: 3719

Posted by Dal on

---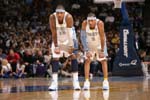 Carmelo Anthony comes back after a 15-game suspension and puts on a show with A.I. -- unveiling the league's newest Dynamic Duo. Anthony scored 28 points in his return from a 15-game suspension for fighting and Iverson added 23 in the Denver Nuggets' 115-98 rout of the Memphis Grizzlies.
And also, Iverson is six points shy of becoming the 30th player in NBA history to score 20,000 points. Huge milestone coming up...respect
---
(Read More... | 6226 bytes more | Score: 4.5) | Reads: 4652

| | | |
| --- | --- | --- |
| | Allen Iverson : Iverson, McGrady in tight race for All-Star starting spot | |
Posted by Dal on

---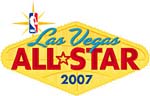 Allen Iverson is closing on Tracy McGrady for the second guard spot in the Western Conference All-Star lineup.
McGrady had 1,331,511 votes in the totals released by the NBA on Thursday, just 31,263 ahead of Iverson in a battle of perennial starters.
C'mon internet voters! Let's put A.I. in the starting line-up. He needs your help. VOTE FOR ALLEN IVERSON NOW
---
(Read More... | 1992 bytes more | Score: 4.33) | Reads: 3901

Posted by Dal on

---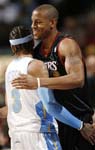 Before the game started, Iverson blasted his former team, saying how they didn't respect him enough nor listen to him before trading him to the Nuggets. Maybe it's bad omen, but A.I. and the Nuggets ended up losing to the lowly Sixers 108-97
Iverson even got ejected from the game in the 4th. After the game, his quote about Steve Javie was very interesting. "I thought I got fouled on that play, and I said I thought that he was calling the game personal, and he threw me out. His fuse is real short anyway, and I should have known that I couldn't say anything anyway. It's been something personal with me and him since I got in the league. This was just the perfect game for him to try and make me look bad." That's 3 straight losses for Denver...
---
(Read More... | 8409 bytes more | Score: 4.18) | Reads: 5134

Posted by Dal on

---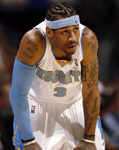 AI has played pretty well his first 5 games with Denver, averaging 28.6 ppg, and 8.8 assists...although they're only 2-3, he's playing well on a depleted team, things should be much better once they get the full roster back.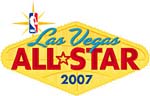 Also wanted to mention, don't forget to vote for AI in the All-Star game! He'll be up against Kobe Bryant and Steve Nash...so it's gonna be tough. If you wanna see AI on the starting line-up. Vote now, and keep voting!
---
(Read More... | 4283 bytes more | Score: 4) | Reads: 3961

Posted by Dal on

---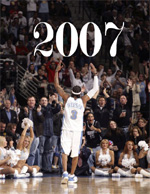 Just wanted to say a big Happy New Year to all our visitors! Welcome to 2007! Can't believe this site has been running for 5 years now!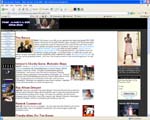 Thinking back, it started off as a small little site on Geocities back in 2001, and has now grown to be the biggest fan site on Allen Iverson on the internet. Just wanted to thank everybody for visiting over the years... and keep coming back cuz 2007 is gonna be awesome...new team, new coach, new teammates...but still one goal for AI -- a championship!
---
(Read More... | Score: 4.25) | Reads: 3934

Posted by Dal on

---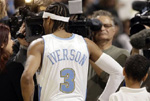 AI made his highly anticipated debut as a Denver Nugget, all decked out in Baby Blue, White and Yellow (still need to get used to the colours), and played a good game despite a loss to Sacramento.
He fought through jet lag, car sickness and pregame butterflies that felt more like birds before he finally got to play his first game for the Denver Nuggets. He posted 22 points, and 10 assists -- not bad considering he hasn't been playing ANY ball in game or practice for a week. He would've had 20 assists had his teammates made their shots.
Overall, AI's debut brought a new level of excitment to Denver...even though they did lose, the fans got to see how exciting it was to watch A.I. play hard, hustle, pass the ball and doing everything he can to win the ball game. Can't wait until the next game.
---
(Read More... | 6873 bytes more | Score: 4) | Reads: 4069

| | | |
| --- | --- | --- |
| | Allen Iverson : In first interview since trade, Iverson tells his story | |
Posted by Dal on

---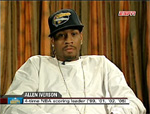 In his first interview since being traded to Denver, Allen Iverson sat down with Stephen A. Smith to tell his side of the story Wednesday
---
(Read More... | 2775 bytes more | Score: 4.73) | Reads: 8559

| | | |
| --- | --- | --- |
| | Sixers : 76ers prepare for new era without Iverson | |
Posted by Dal on

---
Looks like Larry Brown, who took the Sixers to the finals in 2001, might be going back to Philly after the departure of Allen Iverson.
---
(Read More... | 3249 bytes more | Score: 3.5) | Reads: 4396

Posted by Dal on

---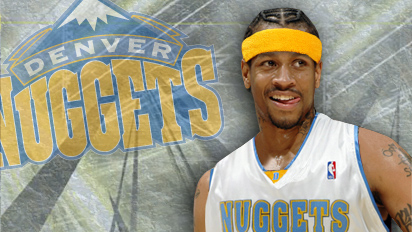 Allen Iverson in yellow and baby blue will take some getting used to.
---
(Read More... | Score: 4.7) | Reads: 10529

Posted by Dal on

---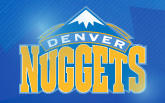 It's finally happened! After a decade with the Philadelphia 76ers -- from being Rookie of the Year to being the league's MVP - Allen Iverson has left the Sixers for good. It's been a funny series of events. Think about it: Iverson gets benched by the Coach and GM, and then Iverson demands a trade. They couldn't find the right team until Denver Nuggets and New York Knicks get into an ugly brawl in which All-Star Carmelo Anthony is suspended 15 games...which then leads to Nuggets desperately seeking a superstar like Allen Iverson. An amazing turn of events.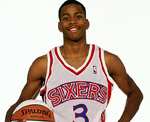 Personally, I'm excited. Finally a change of scenery for Allen Iverson and another shot at the playoffs with a fellow playoff team. The two highest scorers in the L playing side-by-side. That's gotta be exciting to watch!
I know all of you Philly loyalists are going to hate this one...but face it - What's done is DONE -- move on, if you're an A.I. fan then I'm sure you'll continue to follow him as a Denver Nugget -- just like this site will continue to cover A.I.
---
(Read More... | 9536 bytes more | Score: 4.55) | Reads: 6071

| | | |
| --- | --- | --- |
| | Sixers : Unhappy Iverson scuttles trade to Bobcats | |
Posted by Dal on

---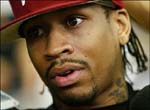 Allen Iverson was nearly shipped to the Charlotte Bobcats but his unhappiness at joining the newest National Basketball Association team reportedly doomed the deal.
Charlotte was one of the few clubs that could fit Iverson's contract into their salary cap. The Hornets spend 38 million dollars in salaries, about 15 million dollars shy of the NBA's cap of 53.1 million dollars a team.
Players who likely would have joined the 76ers would have contracts that expire within 18 months, meeting Philadelphia's needs.
---
(Read More... | 1701 bytes more | Score: 4.33) | Reads: 5200


---