Posted on by Dal

---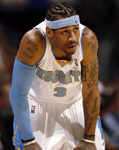 AI has played pretty well his first 5 games with Denver, averaging 28.6 ppg, and 8.8 assists...although they're only 2-3, he's playing well on a depleted team, things should be much better once they get the full roster back.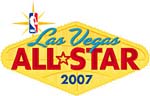 Also wanted to mention, don't forget to vote for AI in the All-Star game! He'll be up against Kobe Bryant and Steve Nash...so it's gonna be tough. If you wanna see AI on the starting line-up. Vote now, and keep voting!
Dallas 89, Denver 85
January 1, 2007
DENVER (AP) -- No Dirk Nowitzki. No problem for the Dallas Mavericks in extending their winning streak to 10 games.
"Everybody knew Dirk was out of the lineup," Dallas forward Josh Howard said. "We needed some people to pick it up and not just me."
Howard had 28 points and 17 rebounds to lead the Mavericks to their 10th straight victory, 89-85 over the Denver Nuggets on Sunday night.
"I was trying to stay aggressive," Howard said. "But it was more of a matter of me going out there and playing my great game."
Howard has scored 20 or more points in 10 his past 17 games while averaging 23 points.
"This is the top," Dallas coach Avery Johnson said. "We could easily have found an excuse for this game, but these guys are playing some tough, hard-nosed basketball."
Howard had nine points in the fourth quarter and made a key basket in the last minute. Jason Terry scored nine of his 21 points in the final period for the Mavericks, missing star Dirk Nowitzki because of a sinus infection.
Allen Iverson had 28 points and eight assists for Denver, and Earl Boykins added 20 points. Marcus Camby had 13 points and 13 rebounds in his first game back after missing four games because of a broken finger.
"I sat out the last four games," Camby said. "I felt like I couldn't miss anymore time."
Dallas outscored Denver 26-16 in the fourth quarter.
"This one was hard to take," Iverson said. We had it. We had the game and didn't finish it out."
Terry connected on two short jumpers in the opening minute of the fourth quarter, getting Dallas to 69-67, but the Nuggets regrouped to go ahead 72-67 after Eduardo Najera's layup and 76-69 on Najera's follow with 7:35 remaining.
"The Nuggets had our backs to the wall at that point," Johnson said. "But we just wouldn't let ourselves buckle."
Dallas tied it at 79 after Terry's 3-pointer and a jump shot by Demean George with 5:08 left.
Camby gave Denver its last lead, 82-81 with a free throw with 2:32 left and Devin Harris gave Dallas the lead right back with a jump shot with 2:16 remaining.
Boykins and Yakhouba Diawara missed badly on 3-point attempts on Denver's next two possessions, while Erik Dampier and Howard were converting two free throws each to make it 87-82 with 1:16 left.
Iverson hit two free throws for Denver, but Howard buried a 15-foot shot with a minute left to put Dallas ahead 89-84. Najera had a free throw for the game's final point.
The Nuggets have blow six fourth-quarter leads this season.
Denver opened the second half with two jumpers by Iverson to 54-44 lead before Howard started an 8-0 run to get Dallas to 54-52 with 8:15 left. The Mavericks remained close until Terry's jumper made it 62-61, but Iverson hit four three throws as part of a 7-2 run in the final 3:08 of the third quarter for a 69-63 lead.
"Tonight we would have won a 40-minute game, but these games last 48 minutes" Denver coach George Karl said. "I've got to find a way to win these games until we get everyone back."
Notes
: Dallas is 7-0 in the second night of back-to-back games. ... Dallas' Jerry Stackhouse (sprained left ankle) has missed five games. ... Denver went with its five different lineup in six games since the suspensions of Anthony and Smith. The Nuggets are 3-3 in their absence.
---