List of available content in Music: Allen Iverson aka Jewels, and the unreleased album.
· Music
· 40 Bars Lyrics
· Pay Per View Lyrics
· Remix Part 2 The Answer 6 Lyrics

Music
Allen Iverson's Music

Initially called Non-Fiction, the CD originally was to come out in February of 2001. After controversy broke out over the lyrics to "40 Bars," the title of the CD was changed to "Misunderstood" and the release rescheduled for June. But to the dismay of fans, Iverson said he had scrapped plans to release a rap CD before the 2001-02 season started.

"It was something I always wanted to do. It was a childhood dream of mine, just like basketball. But I feel like people took it the wrong way, and it kind of took all the excitement out of it. The negativity behind it - I just felt like it was not something I should go through - or my teammates or, better yet, my kids and family," he said.
Although AI won't be releasing his album, Allen Iverson Live has exclusive samples of his never-released album.

Title :Retitled to -> Misunderstood
Release : N/A
Label : Universal
First Single released was 40 bars which was promoted through underground means, i.e. on mix tapes & late night DJ play.


Music Samples
Allen Iverson aka Jewelz - 40 Bars
Allen Iverson aka Jewelz feat. Mysonne, Mase & Harlem World - Pay Per View
Allen Iverson aka Jewelz feat. Ty Gracie - Last Night
Jadakiss feat. Allen Iverson - REMIX PART 2 THE ANSWER 6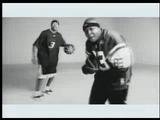 The Source reviewed the rapping ability of prominent sports stars in the no. 126 issue (March 2000). This is what they said about AI.
Flow : B.
Lyrics : B.
Originality : C.
Voice : A.
Potential : If he wasn't playing ball, The Answer might raise serious questions concerning his rapping career - mostly because of his definitive hip-hop, 50-cent - soda-sippin' image.
Overall his grades were the highest given. Other ballers who got reviewed were Kobe who got an F for Voice, Shaq who they said was "living proof that you can buy your way into the rap game."
News Article
Copyright © by Allen Iverson Live - www.alleniversonlive.com - A Fan Site on NBA Legend Allen Iverson All Right Reserved.
Published on: 2005-11-09 (104760 reads)
[ Go Back ]