Posted on by Dal

---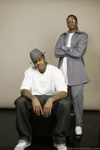 We all know by now, that AI will be missing in action this Sunday's All-Star game. However, his fellow superstar, Carmelo Anthony will be playing in his first All-Star game. They've actually only played 6 games together since Iverson came over from Philly. We still haven't seen the Nuggets at their full force, due to injuries and suspensions...Hopefully, the All-Star break will allow them to fully recharge and surge during the second half of the season.
Nuggets still waiting for Anthony-Iverson to click
Nuggets still waiting for Anthony-Iverson to click
By ARNIE STAPLETON, AP Sports Writer
February 16, 2007
DENVER (AP) -- Allen Iverson will be on the sideline in street clothes Sunday in Las Vegas when Carmelo Anthony plays in his first All-Star game.
How appropriate.
Denver's two superstars have played only six games together since Iverson came over from Philadelphia in a Dec. 19 trade.
Anthony was just beginning to serve his 15-game suspension for fighting when Iverson arrived. Shortly after Anthony's return, Iverson went down with a sprained right ankle that kept him out of nine of the Nuggets' last 10 games before the All-Star break.
"Once we have everyone back and have A.I. healthy, then we can be one of the top teams in the West," said Anthony, the league's leading scorer. "It's just a matter of putting it all together when we are all out there on the court."
That's been the Nuggets' hardest task this season, staying healthy enough to built a nice rapport.
When they did play together, Anthony and Iverson were starting to prove the nay-sayers wrong and showing that the two shooting stars could indeed coexist. They averaged a combined 54 points and 12 assists. However, in their time together, they went just 2-4 as a hodgepodge of newcomers were all adapting on the fly and a lack of stamina resulted in fourth-quarter fades.
After sending Andre Miller and Joe Smith to the 76ers along with two first-round draft picks for Iverson, the Nuggets traded Earl Boykins and Julius Hodge to Milwaukee for Steve Blake.
The Nuggets (26-25) entered the break as the seventh seed in the Western Conference and are hoping the returns of Iverson and Marcus Camby, who's had a pulled groin and the flu this month, will ignite a rise through the standings so they can finally make some noise in the playoffs.
"We have a short period of time to come together, to believe in each other, to built a trust, to (be able to) win playoff basketball," coach George Karl said. "And some nights I think we're going to do it and other nights I think we're too individualistic in our thoughts, too worried about our shots, our minutes.
"If we just block it out and just worry about the team. When we play as a basketball team, we are good. When we defend and pass the basketball, we are good. It's not much more complicated than that."
Since Anthony was named to his first All-Star game as an injury replacement, he's been playing a lot looser and Karl is counting on his unselfish play to continue over the next two months and beyond.
He also wants to make sure Anthony doesn't feel the need to make amends for the 15 games he missed by taking on too much of the burden during the Nuggets' playoff push.
"I think we expect a lot from Carmelo, but not more because of the suspension," Karl said. "The only thing that matters right now is the chemistry of the team coming together, staying together and figuring out how good a team we can become."
Because talent-wise, the Nuggets stack up pretty well.
"We have talented bigs, we have a talented backcourt and we have a young kid named Melo that's pretty incredible to watch," Karl said. "So, the pieces are nice. But putting them together is a commitment by everybody to forget about themselves and just commit to being a team.
"When we get our A-team out there, it's going to be fun. We're going to have some good games in the second half of the season."
---