Posted on by Dal

---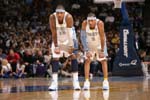 Carmelo Anthony comes back after a 15-game suspension and puts on a show with A.I. -- unveiling the league's newest Dynamic Duo. Anthony scored 28 points in his return from a 15-game suspension for fighting and Iverson added 23 in the Denver Nuggets' 115-98 rout of the Memphis Grizzlies.
And also, Iverson is six points shy of becoming the 30th player in NBA history to score 20,000 points. Huge milestone coming up...respect
Denver 115, Memphis 98
Preview - Box Score - Recap
By ARNIE STAPLETON, AP Sports Writer
January 23, 2007
DENVER (AP) -- Allen Iverson raced downcourt and floated an alley-oop lob that Carmelo Anthony shoved one-handed through the hoop for an arena-rattling jam, one that seemed to holler to all their doubters, "Take that!"
"We just wanted to show the whole world we could play together," Anthony said after the duo's triumphant debut Monday night. "We know there's a lot of doubt about that."
Anthony scored 28 points in his return from a 15-game suspension for fighting and Iverson added 23 in the Denver Nuggets' 115-98 rout of the Memphis Grizzlies.
The two are out to prove two superstars can coexist.
So far, so very, very good.
Their pairing not only benefited each other but created open looks for everybody else. Their signature moment came with 6:39 left when Anthony soared for the alley-oop dunk that made it 103-82.
"I wanted to throw it up high so he could make SportsCenter," Iverson cracked. "No, it was a bad pass, honestly. He just showed what type of athlete he is, he went up there and got it."
Anthony said he didn't even think he could reach it.
"No, I think it was my adrenalin pumping," he said.
After the basket, Iverson sauntered back downcourt, holding his right hand to his ear as the crowd roared.
"That's what it's all about. It's about the kids, and about the fans that love the game and the excitement of the greatest game in the world," Iverson said. "I'm enjoying myself. I know it's my 11th season, but this is a fresh start for me, and it feels like my first. I am having a great time and I love my situation here."
After receiving a resounding ovation during introductions, Anthony took the microphone and thanked fans, teammates and Nuggets owner Stan Kroenke for supporting him during his 36-day layoff.
"It's like a new beginning for us," Anthony said. "And we're going to give y'all something to cheer for."
The Nuggets delivered, jumping out to a 20-point first-quarter lead, never trailing and turning it on in the fourth quarter.
"They play well together," said Pau Gasol, who led Memphis with 23 points. "They had a chemistry from the first moment. They have fun together and help each other out. I'm interested to see how they play together the rest of the year. They will be a very dangerous couple.
"It's tough to have to guard one of them. It's worse to have to worry about two great players."
More than five weeks after clocking the New York Knicks' Mardy Collins in a melee at Madison Square Garden that led to 10 ejections and seven suspensions, Anthony returned to a Denver lineup he hardly recognized.
On the day after NBA commissioner David Stern banned Anthony for 15 games, the Nuggets acquired Iverson, a seven-time All-Star, from the Philadelphia 76ers.
That begged the question: Was there enough room in this town for two superstars who are used to having the ball in their hands when victory is in their grasp?
Anthony came in with a league-leading 31.6-point average with Iverson third at 29.5.
Iverson swears he's had his fill of carrying the load during his 11 NBA seasons and is eager to serve as wingman to the 22-year-old Anthony -- and he showed it the first chance he got.
With 7:30 left in the first quarter, Iverson had a breakaway for an easy basket but flipped the ball instead to Anthony running alongside him for a finger-roll that rocked the Pepsi Center, the first of many big moments for them.
Anthony's biggest ovation came when he took a seat with 4:11 left after totaling 28 points, five rebounds and six assists in 32 minutes.
Marcus Camby had 17 points and 17 boards and J.R. Smith scored 19 points for the energized Nuggets, who raced to a 38-18 lead after one quarter and led 59-47 at the half.
The Nuggets, who went 7-8 during Anthony's absence, parted with Andre Miller to get Iverson, then dealt Earl Boykins to Milwaukee for Steve Blake, a pass-first point guard, perfect for the new dynamite duo.
Anthony said in an open letter of apology to fans and the team on Sunday that he'll return a better player and a better person. He also returned to a lineup that looked little like the one he last saw on Dec. 16, when he struck Collins for collaring Smith on the way to the basket.
Anthony made all his baskets on drives and jams, missing all eight of his jump shots.
"It shows what an incredible work ethic he has," Grizzlies coach Tony Barone said. "Coming onto the court and what does he do to try to win the game? He tries to go to the offensive glass, he runs the court and finished the break and does tries to be a pig. To me that's the mark of a good player.
"They will be a very good team as the season progresses with Allen, who was very unselfish tonight."
Iverson said he's out for much more than just showing the world he and Anthony can get along without butting heads.
"If I didn't feel like I could win a championship, I would retire," Iverson insisted. "If I didn't think we had a shot to win it, then I would hang my sneakers up. Obviously, I believe we can win it. Get us in a seven-game series, and you have to beat us four times."
And with Anthony by his side, he likes his chances.
Notes
Iverson is six points shy of becoming the 30th player in NBA history to score 20,000 points. ... Smith is averaging 17.5 points in the last four games, all as a reserve.
---