Posted on by Dal

---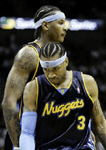 The Nuggets' post-season run came to an end, as the Spurs beat the Nuggets 93-78 in 5 games. It was one of Iverson's worst playoff performances, where he made just 31 of 92 shots, after scoring 31 in the their Game 1 win.
"I felt like this was the worst playoff series that I've played in my career," Iverson said. "It was kind of frustrating, coming into a new situation, wanting to be the one that gets this team over the hump, get them out of the first round. And to play like I'm not capable of playing is just frustrating."
But the outlook looks good for the Nuggets, we saw a glimpse of the Nuggets full-force near the end of the season where they won 10 of 11. Once they get a full training camp together, they could possibly be a top 1-2-3 seed in the West. Hopefully, they'll be able to keep Camby in the off-season, and have a healthy K-Mart come back in October.
---