---
---

Posted by Dal on

---

Allen Iverson won't release his rap album, which drew criticism from civil rights groups and earned him a reprimand from NBA Commissioner David Stern.
"I'm through with it," the league MVP said Monday, the day before the Philadelphia 76ers open training camp. "It's something I always wanted to do. It was a childhood dream of mine, just like basketball. But I feel like people took it the wrong way. It kind of took all the excitement out of it."
When the single "40 Bars" was released in October 2000, Stern called some of the lyrics "coarse, offensive and anti-social." After meeting with Stern, Iverson said he would eliminate the most offensive words from the final version of the album.
The CD originally was to be released around the All-Star game in February. But Iverson put that off until after the season.
Now it won't be in stores, after all.
---
(Read More... | 3318 bytes more | Score: 4.4) | Reads: 0

Posted by Dal on

---
Let It Snow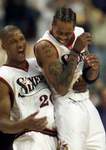 May 31 - Allen had another bad shooting night with 5 of 27. But Eric Snow, playing with a fractured ankle, hit the game winner as Philly beat Milwaukee 89-88. Sixers will try to close it up on Friday.
---
(Read More... | Score: 1) | Reads: 0

Posted by Dal on

---
Blood On The Dance Floor


May 28 - He's back: healthier, speedier and bloodier. Iverson scored 28 points (10 for 32) as Sixers beat the Milwaukee Bucks 89-83 . In the fourth quarter, Iverson got elbowed hard in the face by Ray Allen and went down hard. "It loosened his right front tooth. It bled quite a bit initially,'' 76ers trainer Lenny Currier said. Iverson said, "I didn't think the refs were going to let me back in the game because I was spitting up so much blood. I was trying to stop the bleeding but it wouldn't stop, so I kept my mouth closed and swallowed the blood when it filled up.'' UNBELIEVABLE. No one deserves to win more than the Allen Iverson and the Sixers.
---
(Read More... | Score: 5) | Reads: 0

| | | |
| --- | --- | --- |
| | Allen Iverson : Old News: No Answer For Game 3, Return For Game 4 | |
Posted by Dal on

---
No Answer For Game 3, Return For Game 4
May 27 - It was an ugly game, but the Iverson-less Sixers managed to pull within 6 as the Bucks outlasted the Sixers in a defensive battle, 80-74. Without an injured Iverson, the Sixers struggled to find sources of offense, shooting only 35 percent from the floor and scoring only 14 points in the fourth quarter. But it has been announced that Iverson will play Monday in Game 4. ``I don't feel that much better, but as long as I can run up and down the court I'll be all right,'' said Iverson, who has even had trouble sleeping because of his pain. ``I was so happy with their effort, I couldn't wait for them to get back to the hotel so I could tell them. I almost jumped in a cab,'' Iverson said.

---
(Read More... | Score: 0) | Reads: 0

Posted by Dal on

---
Playing Hurt


May 24 - "I've had some tough injuries in my career, but this ranks up there as one of the toughest because it takes away most of my speed and the lift on my jump shot,'' Iverson said of his badly bruised tailbone. ``It's frustrating having to settle for jump shots.'' The NBA's MVP and scoring champion missed 15 of his first 17 shots and scored just 16 points as the Philadelphia 76ers lost 92-78 to the Milwaukee Bucks in Game 2. "This is my dream to be here, but I never had to play with an injury like this one,'' Iverson said, adding he doesn't want to hurt the team. "The last time it hurt like this, I missed five games.''
---
(Read More... | Score: 0) | Reads: 0

Posted by Dal on

---
Congratulations LB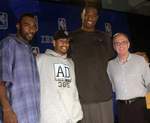 May 23 - Larry Brown received 85/124 votes to become IBM Coach of the Year as the Sixers nabbed 4 NBA awards. ``He deserved it,'' Iverson said. ``He's helped me so much on the court, but he's also helped me so much dealing with things off of it, being a professional.''
---
(Read More... | Score: 0) | Reads: 0

Posted by Dal on

---
Sixers 1, Bucks 0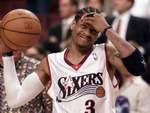 May 22 - Iverson was ice-cold in the 1st quarter shooting 0-9, but he soon picked up pace and scored 34 from 13-26. Luckily, Mutombo and McKie played well as the Sixers beat the Bucks 93-85. Iverson got drilled by Cassel with an elbow in the final minute of play. He said he was dizzy afterwards. Sixers finally win their first game one of the playoffs so far. Larry Brown will be coach of the year. Like I said before, the Sixers will become the first NBA team to win 4 awards.

---
(Read More... | Score: 0) | Reads: 0

| | | |
| --- | --- | --- |
| | Allen Iverson : Old News: Sweet 16, It's Time for Eastern Conference Finals | |
Posted by Dal on

---
Sweet 16, It's Time for Eastern Conference Finals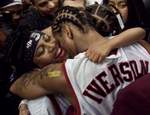 May 20 - One of the most exciting playoff series came to an end today. It was the final show between Vinsanity and The Answer. Who would prevail this epic battle? Their Teammates. Iverson dished a career-high 16 dimes as the Sixers beat the Raptors 88-87. Iverson wasn't even the top scorer on the team, scoring only 21 next to Aaron McKie's 22. "We're a team," Iverson said. "For the first time in my life I'm on a team." In the dying seconds of the game, Vince had a final chance to get the win, but missed the jumper. Iverson ran to hug his mother and daughter, confetti fell from the ceiling of the First Union Center and the rest of the Sixers celebrated the franchise's first trip to the Eastern Conference finals since 1985.

---
(Read More... | Score: 5) | Reads: 0

Posted by Dal on

---
Se7en


May 18 - This series has been a two-man show. The Answer and Vinsanity have been alternating between spectacator nights. Unfortunately, it was Vince's turn tonight to answer Iverson's 52 performance on Wednesday. AI was held to only 20 points from 6/24 shooting has the Sixers lose to the Raptors 101-89. The Raptors had the energy and Mo Pete stepped up as a starter to hit some big threes to hold back a 3rd quarter Sixers comeback. But the Raptors had to intensity tonight. We're down to the final game, game 7, as Allen said, "If we lose Sunday, it's summer vacation -- and I'm not ready to go home yet."
---
(Read More... | Score: 3) | Reads: 0

Posted by Dal on

---
1000 Hits Milestone
May 18 - Thanks to all you visitors for supporting my site! We've reached 1000 hits today. Updates are always coming. Keep checking back. Don't forget to tell your friends!
---
(Read More... | Score: 0) | Reads: 0

Posted by Dal on

---
And That's Why I'm MVP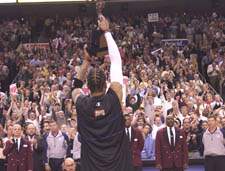 May 17 - Today was the making of history. David Stern handed Allen Iverson the MVP trophy at the pregame ceremony. Allen paid tribute to all those who have helped him get to him where he's at, especially the fans. Iverson played the game as if he was proving to the world that he truly deserved the award, scoring an amazing 52 points as the Sixers blowout the Raptors 121-88. Iverson became the second player next to Michael Jordan to have two 50-point games in a series. He finished 21-for-32, including 8-for-14 from beyond the arc. In response to Vince's hot game 3, where Vince said the basket looked like a lake, Iverson said, "to me, (the basket) looked like an ocean".
Photos: MVP Press Conference | Game 5 Pregame Ceremony | Game 5 In-game
---
(Read More... | Score: 0) | Reads: 0

| | | |
| --- | --- | --- |
| | Allen Iverson : Old News: MVP? No Question, The Answer is Allen Iverson | |
Posted by Dal on

---
MVP? No Question, The Answer is Allen Iverson


May 15 - You all knew it was coming. Allen Iverson proved to the world that even the smallest player can have biggest heart as he was announced NBA 2000-2001 MVP today. He earned 93 out of 124 votes beating 2nd place Tim Duncan and 3rd place Shaquille O'neal. Iverson became the shortest (6'0") and the lightest (165 lbs) to win the Maurice Podoloff Trophy.
Lets recap the Sixers performance this season:
1.) Allen Iverson wins NBA's Most Valuable Player Award
2.) Aaron McKie wins NBA's Sixth Man Award
3.) Dikembe Mutombo wins Defensive Player of the Year Award
4.) To be Announced: Larry Brown wins Coach of the Year Award
* They'd probably give Pat Croce a Team President Award if they had one

---
(Read More... | Score: 0) | Reads: 0

Posted by Dal on

---
Sixers Get Even, Lose Lynch
May 13 - After two back-to-back indvidual 50 point games, everything seemed to tone down as no one came near to 50. Larry Brown started McKie, which proved to be worthwhile as he knocked down 18. The Sixers seemed back to their hustle, as they led the entire game. Raptors would pull it even in the fourth quarter, but Iverson hit a dagger 3-point that sealed the deal. Iverson scored 30 as the Sixers beat the

Raptors 84-79. Sixers would lose Lynch, one of their top defensive players to a foot injury from 4 to 6 weeks. "Nobody ever told me that winning a championship was easy, and I found out the hard way that isn't easy to win a playoff game," said Iverson.
Photos: Game 3 at Toronto (11), Game 4 at Toronto (15)
---
(Read More... | Score: 0) | Reads: 0

Posted by Dal on

---
Vinsanity Answers Iverson With 50
May 11 - You know the game is over when Vince Carter sets an NBA-record of 8 3-pointers with 34 points in the first half. It was Vince's turn to score 50 points in his own house. Iverson watched and comtemplated the domination as the Raptors beat the Sixers 102-78. There's nothing left to say but lets hope Iverson can repeat his game 2 performance.
Photos: Game 1 at Philadelphia (9), Game 2 at Philadelphia (23)
---
(Read More... | Score: 0) | Reads: 0

Posted by Dal on

---
Unbelievable Answer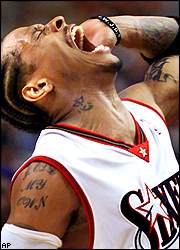 May 9 - 54 was the number of points Iverson. That's a career playoff-high. Sixers beat the Raptors 97-92 with a phenomenal performance by AI. "I always feel the only person who can stop me is myself," Iverson said. "The only thing I care about is getting a win. If I shoot terrible, and we win, that's all that matters." At one point he scored 19 straight points in the 4th quarter. The entire game was like another AI highlight reel. Expect a repeat this Friday up north.
---
(Read More... | Score: 0) | Reads: 0

Posted by Dal on

---
Sixers Lose Round 2, Game 1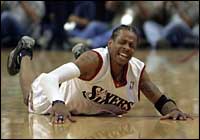 May 6 - Iverson had a terrible shooting game with 11 out of 24 shooting. The team committed way too many turnovers that led to a climbing Raptors lead. Vinsanity took over the entire game, making crucial back-to-back buckets late in the fourth quarter. Iverson sparked a last minute comeback by hitting a bit 3 in the dying seconds, but it was too late. Maybe they were a little to anxious coming off the short break. Iverson needs to play better mentally. Watch for that next game Wednesday.
---
(Read More... | Score: 0) | Reads: 0

Posted by Dal on

---
Victory At Last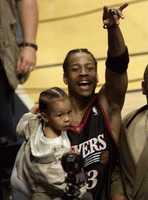 May 2 - After two years of losing to Indiana in the playoffs, Iverson and the Sixers get revenge as they beat Indiana 88-85. Despite having a poor shooting night, Iverson was well supported by his teamates who made big plays at crucial times. "I'm exhausted physically and mentally, because they brought out a lot in Allen Iverson," Iverson said. "It's been rough on me mentally. We could never get past these guys (in the playoffs)." Iverson's next challenge is uncertain, with the NY and Toronto series tied at 2-2. In the post game conference, Iverson was accompained by his son, Deuce, who has been travelling with the Sixers on the road. Playoffs 2001, Round 1, Game 4 Photo Gallery.
---
(Read More... | Score: 0) | Reads: 0

Posted by Dal on

---
1 More to Go
Apr 28 - Iverson didn't match his performance in Game 2, but the Sixers still pull it off to beat the Pacers 92-87. There was a concern before the game about the fans. Iverson was fined $5,000 by the NBA for shouting a derogatory remark about gays to hecklers the last time he played in Indianapolis. Fortunately, Pacers fans behind the 76ers bench were generally well-behaved, and so was Iverson. In the first half, Iverson had a break-away and dunked the ball, which is something rarely seen nowadays. But still, it proves he still got the hops despite the injuries. Sixers play Wednesday as they try to wrap up the first round.
---
(Read More... | Score: 0) | Reads: 0

Posted by Dal on

---
Iverson Answers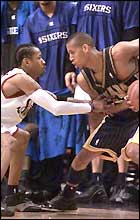 Apr 24 - Sixers came into this game mentally prepared. Iverson played a very smart game. Again, like last game he was double-teamed every time he touched the ball. This time however, he seem to always find the open man. He hardly forced the ball up and made big shots. Miler had a phenomenal first half, scoring 33. But in the end, Iverson answered by scoring 45 and dishing out 9 assists as the Sixers defeated the Pacers 116-98.
---
(Read More... | Score: 0) | Reads: 0

Posted by Dal on

---
Reggie Miller Answers
Apr 21 - Opening game of the 2001 Playoffs. Iverson was shut down as he was double teamed every time he got the ball. Luckily his teamates picked up the paces and had a double digit lead at the end of the half. Pacers came thundering back in the second half to take the lead. In the final seconds of the fourth quarter, Philly was up by 2, but Reggie Miller answered by bombing a three with 2.9 seconds remaining. Iverson had the last shot be fell to Miller's defense. Disappointing loss at 79-78.
---
(Read More... | Score: 0) | Reads: 0

Posted by Dal on

---
Beat Celtics, Lose To Heat
Apr 10 - Sixers cruised past the Boston Celtics on Monday but lost a close one today to Miami Heat 103-101. Tim Hardaway hit a game winner similar to the earlier Orlando game. Iverson scored 41. At this point, I feel the Sixers do not need to play to their full potential for risk of injury. They have clinced the Conference Title and look good with their starters back in the line up. They will probably start the playoffs against the Pacers.
---
(Read More... | Score: 0) | Reads: 0

Posted by Dal on

---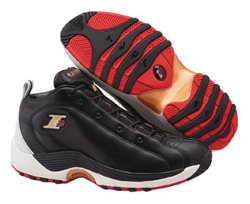 Iverson Injured
April 7 - Sorry for the lack of updates. Sixers beat Pacers easily, then lost a big one to Tornoto. I watched the Toronto game and I have to say the Sixers played like shit. Iverson was cold and nobody could step up. Iverson is out with a bruised tailbone, but Sixers beat the Pistons the following day without him. Again, they whooped the Cavs without AI. Iverson should be back Monday to against the Celtics. Brother of 76ers' owner caught in theft - Pat Croce (owner) fired his brother after witnessing a videotape of John Croce stealing from Iverson's pants in the locker room. Iverson is extremely generous to family and friends and usually carries couple thousand in his pockets. John, Sixers weight and conditioning coach, took advantage. Pat went down to Washington on Jan. 12 to personally apologize to Iverson. ``He said, 'It's nothing, Pat,''' Iverson said. Note: As early as the 1999-2000 season, several players had complained about missing money, according to team sources. Iverson's new shoe: Add a 4th variation to the Answer IV with this playoff edition shoe. Nice.
---
(Read More... | Score: 4.5) | Reads: 0

Posted by Dal on

---
Iverson on The 50-Point Club
Mar 31 - Six players have reached 50-points this season. Allen Iverson and Antawn Jamison are the only two players who are on The 50-Point Club twice.
---
(Read More... | Score: 5) | Reads: 0

Posted by Dal on

---
Misses Triple-Double By An Assist
Mar 31 - During half-time, Charles Barkley's jersey was retired. Barkley, one of the toughest power forwards in his time could hardly hold his tears in as his #34 Sixers jersey went up. Sixers win their 50th game, as Iverson scored 35 points and grabbed a career-high 11 rebounds to lead the Philadelphia 76ers to a 102-89 win over the Golden State Warriors. Iverson was one assist shy of a triple-double, he said after the game, "I really wanted it because I never did it before. To have a triple double, that's a great all-around game. And on a night like this when you have one of the greatest players to ever play the game, the whole all-around game, and he gets his jersey retired, it was something I wanted to look back on. It was a great night, my mom got to see Charles get his jersey retired, I got a chance to see it. It was something special, something I'll cherish for the rest of my life."
---
(Read More... | Score: 0) | Reads: 0

Posted by Dal on

---
McGrady Answers The Answer
Mar 28 - This must have been one of the more exciting games of the year. In the final seconds of the the fourth quarter, Magic led by 2. Iverson, with 7.6 seconds left, hit a jumper and got the foul, putting Philly up by 1. In the final seconds, T-Mac thundered down the lane and hit the buzzer beater. No 50th win for Philly tonight, tune in next game.
---
(Read More... | Score: 2) | Reads: 0

| | | |
| --- | --- | --- |
| | Allen Iverson : Old News: Allen Iverson signs a lifetime contract with Reebok. | |
Posted by Dal on

---
Iverson signs lifetime deal with Reebok

Iverson signed a lifetime endorsement contract with Reebok on November 28, 2001. The deal is an extension to his 10 year, $50 million deal signed after being the No. 1 pick in the 1996 NBA draft. Terms of the deal weren't disclosed, but Fireman, CEO of Reebok, said he'd never before signed a "lifetime" deal for Reebok. "It shows a lot of commitment, and hopefully I can stand up to my part," Iverson said. "I didn't have the greatest past in the world, but they always stood by me and always stood up for me when times were bad. This is another time they stood by me and I'm just looking forward to doing the best I can for Reebok." Reebok gave Allen a Breitling watch during a news conference announcing his lifetime contract .
Get ready for a Jordan-like legacy...
---
(Read More... | 6475 bytes more | Score: 4.2) | Reads: 0

Posted by Dal on

---
The Answer Returns


Mar 26 - After missing 4 games due to a hip pointer, The Answer thunders back with 36 points in the Sixers 90-78 victory over the Bucks. Allen said, "If it comes to a point that somebody can guard me, then I know I'm hurt. My thing is as long as I can run, I can play. And I could run." Allen showed no sign of injury. Iverson got a breakaway after a Bucks turnover and smiled at the Buck's bench as he drove for the easy layin. He said his hip cramped a bit in the second half. "I thought I might have tried to run too fast. But once I was able to deal with the pain, I was OK," he said. "I know I'll be sore tomorrow. But that's the way it goes."




---
(Read More... | Score: 0) | Reads: 0

Posted by Dal on

---
Mar 26 - Welcome to the first version of The Answer Online. This site is dedicated to the soon-to-be NBA MVP superstar Allen Iverson. Iverson, in his 4th NBA season, is leading the NBA in scoring and in steals. The Philly Sixers are the number one team in the NBA and have clinched the playoff spot already. Tune in as Allen and the Sixers climb their way to the NBA championship. Be sure to check back often for news and updates as the we approach the playoffs.

---
(Read More... | Score: 0) | Reads: 0


---