List of available content in Shoes: Allen Iverson's Basketball Shoes
· Allen Iverson Shoes
· Reebok The Question (1996-97)
· Reebok Answer I (1997-98)
· Reebok Answer II (1998-99)
· Reebok Answer III (1999-00)
· Reebok Answer IV (2000-01)
· Reebok I3 Playoff (2001)
· Reebok Answer V (2001-02)
· Reebok Answer VI (2002-03)
· Reebok Answer VII (2003-04)
· Reebok Answer VIII (2004-05)
· Reebok Answer IX (2005-06)
· Reebok Answer X (2006-07)
· Reebok Question Denver (Iverson and Reebok Invade Denver - Any Questions?)
· Reebok Answer XI (Preview of Iverson's kicks for the 2007-08 season)

Reebok Answer VIII (2004-05)
Reebok Answer VIII
Hot on the heels of the best selling Answer VII is the latest signature shoe from one of the finest players ever to grace the NBA. Allen Iverson is the face of RbK in basketball and the Answer VIII is what Allen Iverson will be wearing this season! This is the highest quality shoe in basketball performance showcasing a soft grain leather upper for maximum comfort, DMX technology for internal cushioning and a moulded heel counter for stability and support. Availability in the UK is extremely limited so get yours now!
Perfed full-grain leather upper provides breathability, comfort and maximum performance. CMEVA midsole offers a responsive ride. Injected TPU arch adds increased arch support. Herringbone rubber outsole adds maximum traction and durability.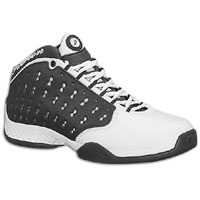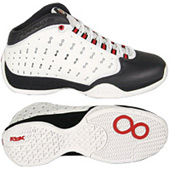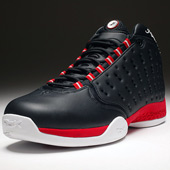 Copyright © by Allen Iverson Live - www.alleniversonlive.com - A Fan Site on NBA Legend Allen Iverson All Right Reserved.
Published on: 2005-10-28 (51949 reads)
[ Go Back ]