Posted on by Dal

---
Iverson signs lifetime deal with Reebok

Iverson signed a lifetime endorsement contract with Reebok on November 28, 2001. The deal is an extension to his 10 year, $50 million deal signed after being the No. 1 pick in the 1996 NBA draft. Terms of the deal weren't disclosed, but Fireman, CEO of Reebok, said he'd never before signed a "lifetime" deal for Reebok. "It shows a lot of commitment, and hopefully I can stand up to my part," Iverson said. "I didn't have the greatest past in the world, but they always stood by me and always stood up for me when times were bad. This is another time they stood by me and I'm just looking forward to doing the best I can for Reebok." Reebok gave Allen a Breitling watch during a news conference announcing his lifetime contract .
Get ready for a Jordan-like legacy...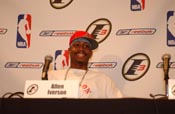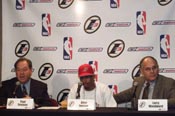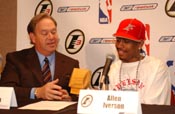 Allen Iverson signs a lifetime contract with Reebok.
Wednesday, November 28, 2001
REEBOK HAS THE ANSWER...FOR LIFE
Lifetime Partnership between Reebok and NBA MVP Allen Iverson Advances Reebok's Goal to Become Most Visible Footwear & Apparel Brand in Sports

Deal Includes Extended Line of I-3 Signature Products and Increased Television and Print Advertising Featuring Iverson
CANTON, MA, November 28, 2001 -- After five successful years as on and off-court partners, Reebok (NYSE:RBK) and star basketball guard Allen Iverson have signed a lifetime contract, a deal which guarantees Iverson remains a Reebok endorsed athlete throughout his professional career. The lifetime agreement with the reigning MVP of the National Basketball Association (NBA) takes Reebok one step closer to achieving its goal to become the world's most visible footwear and apparel brand in sports. The announcement was made today by Reebok Chairman and Chief Executive Officer Paul Fireman at a pre-game press conference at the First Union Center in Philadelphia. Financial details of Iverson's lifetime contract are not being disclosed.
The extension of Iverson's partnership with Reebok comes on the heels of a historic 10-year alliance the company developed earlier this year with the NBA in which Reebok designs, develops, sells and markets licensed merchandise for the league, its women's division, the WNBA, and its new minor league, the National Basketball Development League (NBDL).
Last December, Reebok inked a similar 10-year deal with the National Football League (NFL), securing the exclusive rights to design, develop, market and sell NFL licensed apparel for all 32 teams.
With many of the industry's most marketable and valuable sports assets under contract, Reebok has retained New York-based Arnell Group to create an integrated marketing campaign that fuses together sports, music, technology and entertainment designed to connect its brand to millions of new consumers around the world. The new advertising campaign debuts early 2002.
At this time, Iverson and Reebok plan to develop a broader line of Iverson's signature I-3 Reebok products and increase visibility of Iverson and his Reebok gear on television, in magazines and on the Internet.
Iverson began his relationship with Reebok in 1996 when he entered the NBA and was its Rookie of the Year. Since then, Reebok's market share in the basketball category has increased consistently.
"Today's announcement makes it clear that Allen and Reebok believe it is mutually beneficial to remain family for many years to come," said Fireman. "Reebok has only just begun to experience the vast benefits of Allen's enormous appeal to young men who admire his authenticity, integrity, passion and tenacity. We want to ensure that as Allen's marketability strengthens and his fan base increases, the Reebok brand remains an integral part of his life and his tremendous success," stated Fireman.
Iverson, heralded for his gutsy play during last season's NBA playoffs and finals, has become a major factor in Reebok's resurgence. During their five-year relationship, Reebok has developed a collection of athletic shoes and apparel for Iverson under the Reebok I-3 brand name. Iverson's signature shoe, "The Answer," has been among the top sellers in the industry since its introduction in 1996.
Last week, Friday, November 23, Reebok's black/silver Answer V ($125) was introduced at retail. On February 10, 2002, Iverson's NBA All-Star version of the Answer V in the white/flash red/silver color-way ($125) will hit store shelves.
Speaking on his relationship with Reebok, Iverson said: "This is a great moment. Reebok has been with me since day one, and they have stuck with me through good times and bad. It's an honor to be associated with this brand and the people of Reebok."
Reebok and Iverson's strategy calls for, "The Answer" to be featured in more television and print advertisements, as well as play a larger role in Reebok's promotional programs and sponsorships around the world.
Reebok International Ltd., headquartered in Canton, MA, is a leading worldwide designer, distributor and marketer of sports, fitness and casual footwear, apparel and accessories. Principal operating units include the Reebok Division, The Rockport Company, Ralph Lauren Footwear and Greg Norman Collection. Sales for 2000 totaled approximately $2.9 billion. Reebok can be accessed on the worldwide web at www.reebok.com.
---