Posted on by Dal

---
August 29, 2004
Team USA leaves Athens with bronze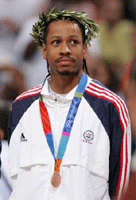 Bronze is better than nothing. That's one Olympic lesson the U.S. men's basketball team was able to understand.
The Americans took the third-place game seriously Saturday night, earning some revenge and salvaging some self-respect in a 104-96 victory over Lithuania.
Although they didn't get what they wanted in Athens, they didn't embarrass themselves in their finale, either.
``You want to win the whole thing, but you've got to cherish the fact that you were able to win something,'' Allen Iverson said. ``You come all the way over here to Greece and then go home with nothing? That's a lot worse.''
Iverson stared at the Argentine flag as it was raised during the medal ceremony, nothing even remotely resembling a smile crossing his face.
---