Posted on by Dal

---
August 28, 2004
U.S. men's hoops lose to Argentina 89-81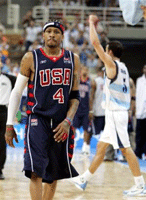 No excuses, and no gold.
The Americans won't be the Olympic basketball champions for the first time since 1988, beaten by an Argentine team that lacks stars but simply knows how to play together better.
Manu Ginobili scored 29 points to lead Argentina to an 89-81 victory in the semifinals Friday night, humbling the nation where the game was invented and perfected.
Bronze is now the best the Americans can do with their hastily assembled assortment of NBA stars that showed weaknesses almost from the moment it began practicing in late July, a month after its opponents.
``We fought as hard as we could,'' Allen Iverson said. ``We couldn't get it done for whatever reason. They were a better team than us.''
---