Posted on by Dal

---
August 23, 2004
USA Men Knock Aside Angola 89-53

Led by a balanced scoring attach, the suspence in the USA-Angola men's Olympic game was gone quickly as the Americans (3-2) led from start to finish and claimed an 89-53 victory. The medal round quarterfinals are next for the U.S.
Iverson scored 10 points, off 3 of 4 field goals and 4 of 4 from the line.
The Americans had to wait until Greece defeated Puerto Rico 78-58 in Monday's final game to find out their next opponent, Spain (5-0). China earned the final medal-round spot from Group A by upsetting Serbia-Montenegro 67-66 behind 29 points from Yao Ming.
Elimination play begins Thursday against Spain, which finished pool play with a 5-0 record.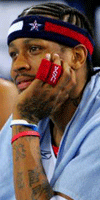 Iverson not having fun at Olympics - But Sixers guard says he would do it again
Allen Iverson is not having fun at his first Summer Olympics. But he'd do it again if he had the chance.
The United States' busy schedule of games and practices has prevented Iverson from enjoying the Games as much as he'd like. He hasn't been able to attend to any Olympic events in other sports, as he'd hoped, though there's still time.
"Honestly, even without the scrutiny and losses, it hasn't been that much fun for me anyway and I honestly feel like I can speak for a lot of the other guys on the team," he said after an 89-53 win over Angola today left the U.S. team 3-2 in group play. "It hasn't been that fun, but who said it was going to be fun? We came out here to accomplish a goal, to win a gold medal. That's supposed to be the funnest part of it all."
---