Posted on by Dal

---
August 19, 2004
American Men Stage Comeback Over Aussies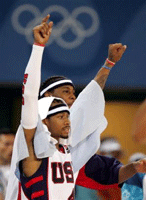 The U.S. Men's Olympic Team staged a thrilling comeback in the fourth quarter, outscoring Australia 24-12 during that span to take the 89-79 victory. Upping its record to 2-1 in Athens, the USA received an 18-point, 11-rebound effort from co-captain Tim Duncan, as well as 16 points apiece from Allen Iverson and Shawn Marion and 12 from Dwyane Wade.
The victory -- and the way the Americans turned the game around -- might be a big step toward reversing their fortunes after they struggled to beat Greece and were embarrassed by Puerto Rico in a 19-point loss.
Brown said the players are beginning to realize what it takes to win at the Olympics.
We got one more qualifier against Lithuania, which should be rough, before the medal round starts. And it took him three games, but Larry Brown finally benched Richard Jefferson
Vote for the best photo from the 2003-04 NBA season
Inside Stuff 2004 Rewind Challenge
Think you know which NBA photo deserves the title NBA Photo of the Year? Want to spend NBA All-Star 2005 in Denver, being part of the All-Star excitement and getting a behind-the-scenes look at an exclusive NBA photo shoot?
Well, the Inside Stuff Rewind Challenge can make it happen. Peep the following NBA Photo of the Year contestants and cast your votes in a four-round tourney that will determine which photo is most deserving of NBA Photo of the Year.
Eastern Conference -- Round 2
Allen Iverson vs. LeBron James - Vote for AI NOW! Don't forget to enter for the sweepsteaks!
---