Posted on by Dal

---
August 15, 2004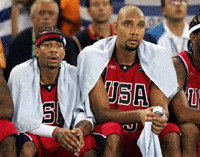 Shocker! Puerto Rico Stuns USA Men 92-73 In Olympic Opener
In an upset that was as historic as it was inevitable, the U.S. men's basketball team lost for only the third time ever in the Olympics on Sunday, 92-73 to Puerto Rico.
It was also the most lopsided loss in the games for the Americans, alarming not only for its significance but also for its decisiveness.
The loss was a blow to the confidence of Tim Duncan, Allen Iverson and the rest of the Americans, but it did little to hurt their gold medal chances. They need only to finish in the top four of their six-team group to reach the quarterfinals.
``They play the game the way it's supposed to be played,'' Iverson said. ``It's not about athletics. That's the game the way Karl Malone and John Stockton play it. It's good for kids to see how the game is supposed to be played.''
Full Story | Box Score | More
Catch All The U.S. Olympic Basketball Action This Summer On NBC Networks
NBC recently announced its coverage of the 2004 Olympic Games and for the first time USA Basketball fans will be able to follow the 2004 U.S. Men's and Women's Olympic Basketball Teams on NBC and the CNBC and USA networks of NBC. More...
---