Posted on by Dal

---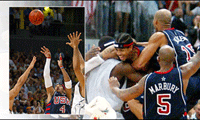 August 4, 2004 - Iverson bails out Team USA
The Americans needed a final-shot 3-pointer by Allen Iverson from just across midcourt Wednesday to pull out an 80-77 exhibition victory over Germany -- a team that failed to even qualify for the Athens Games.
`That was great. It felt good because it was the first time in my life I hit a buzzer beater like that,'' Iverson said. ``That's what basketball is all about.'
``I think we're getting better. Just to get a win in a place like this -- the crowd was really into it,'' Iverson said. ``We have to get used to it in Athens. Everybody will be rooting against us. So this will be a good test for us.''
Box Score | Read More | Comment on the Forum
In other news, Sixers traded Derrick Coleman to Larry Brown's Detroit Pistons for Corliss Williamson. The 76ers made it clear they wanted to deal Coleman, who has two years and $9.5 million on his contract. If the Pistons want to release him after one season, they will owe him $2 million. Williamson has$18 million and three guaranteed years left on his deal.
---