Posted on by Dal

---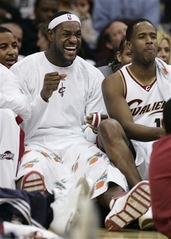 James was an Olympic teammate of Allen Iverson's and wouldn't mind playing again with the 76ers' troubled point guard, who appears to be on the verge of being traded by Philadelphia.
"I'm not trying to stir something up around here, but he's a Hall of Famer, who wouldn't want to play with him?" James said. "Anyone in the league would want to play with a guy like that."
James feels the best thing for Iverson and Philly is to part ways. "It's very difficult for him to swallow," he said. "But he has to understand that and move on."
---