Posted on by Dal

---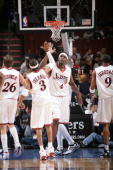 On a night when AI was shooting cold, Chris Webber picked it up and had one of his best games ever. Webber had 27 points and 21 rebounds, and Iverson added 19 points and 10 assists to help the Philadelphia 76ers win their third straight game, 90-89 in overtime over the Minnesota Timberwolves on Monday night.
It just shows how valuable having an all-star like Chris Webber is. In the past, when AI was having an off night, there was no option B. Now, Sixers are a more complete team than ever.
Philadelphia 90, Minnesota 89, OT
AI's Stats: 8-25 19Pts, 10 Ast, 3Reb, 3Stl, 50Min
PHILADELPHIA (AP) -- This game was vintage Chris Webber, maybe even better.
Webber tormented Kevin Garnett defensively, dunked and drove like a spry, younger version of himself and powered his way to the basket on a night Allen Iverson never really got going.
"I'm up for the challenge," Webber said. "I'm not by any means dead yet."
Webber had 27 points and 21 rebounds, and Iverson added 19 points and 10 assists to help the Philadelphia 76ers win their third straight game, 90-89 in overtime over the Minnesota Timberwolves on Monday night.
"He was our best option in terms of putting the ball in his hands," coach Maurice Cheeks said. "I thought his defense on Garnett was just excellent."
After the Sixers wasted a 10-point lead in the final 4 1/2 minutes of the fourth quarter, Webber scored the go-ahead basket in overtime and made two key blocks on Garnett that denied the tying field goals.
Webber nearly came up with a steal in the final seconds, but disrupted the ball enough that Minnesota got one last look on an inbounds pass with 0.4 seconds left. Szczerbiak tossed a pass to Garnett, his shot was off the mark and the Sixers escaped with a win they almost gave away.
Webber went 13-for-25, his 18 defensive rebounds were a career best and he controlled the game much like he could when he was with Sacramento and regularly going up against the premier power forwards in the Western Conference.
"I was touching the ball in my comfort spots and that's all I ask is to get the ball in my comfort spots and be able to try and do something," Webber said.
Wally Szczerbiak scored 23 points, Garnett had 19 and Marko Jaric added 14 points and 10 assists for the Wolves, who ended a five-game winning streak that had sent them to the top of the Northwest Division.
"We slowed down Iverson and (Kyle) Korver, but then Webber comes up and bites us," Wolves coach Dwane Casey said.
Both teams lead their divisions, though with this win putting the Sixers at .500 (11-11), it's hard to imagine this game as a possible preview of the NBA Finals.
Then again, wilder things have occurred like the creaky Webber leaving his feet on more than one shot, Korver scoring on a three-point play instead of 3-pointers and reserve Shavlik Randolph adding key baskets -- all in a wild fourth quarter.
Randolph had two big dunks -- one off a rebound and another on a fast break -- that pushed the Sixers' lead to 74-67 late in the fourth. He received a standing ovation from the minuscule crowd when he went back to the bench.
Webber blew past Garnett -- yes, blew past -- for a baseline dunk that also earned him a technical for hanging on the rim. Szczerbiak hit the free throw, a seemingly minor play at the time that ended up being the difference in sending the game to overtime.
And when Korver surprised everyone, including probably himself, by taking a bounce pass on the run and finishing with a rare dunk and three-point play, the Sixers went up 10.
Then it all fell apart for the Sixers, who have a nasty habit of blowing big leads late this year. Only this time, they hung on to win.
Richie Frahm and Szczerbiak each hit 3-pointers and Anthony Carter picked off a pass and went the length of the court for a basket, giving the Wolves an 85-83 lead with 40 seconds left.
"The did a good job on K.G.," Casey said. "They kind of got him out of his rhythm. The small lineup got us back in the game."
Webber tied it on a short hook with 23 seconds to go and Garnett missed the final shot to send the game into overtime.
"I want the opportunity to play that way every night," Webber said. "I want to shoot that many shots or shoot them in those spots every night."
Iverson came in averaging a league-high 34.4 points, but went 8-for-25 and had a season-low point total.
The Sixers continued to get Korver more involved in the offense. After scoring 51 points the last two games, Korver's point total dipped to 13 against the Wolves, but his clutch outside shooting remained constant when he had the looks.
He gave the Sixers a 62-60 lead with a 3-pointer late in the third quarter, and, after Garnett followed with a basket from the top of the key, Korver came right back down and hit another jumper to make it 64-62.
Notes
Sixers C Michael Bradley was inactive after his back tightened on him during pregame warmups. ... Minnesota G Troy Hudson missed his third straight game with a strained calf. ... Webber had his ninth career 20-20 game.
---