Posted on by Dal

---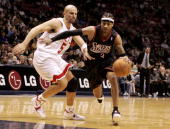 Sorry for the lack of updates...it was exam time :-p
Sixers have been a mediocre team at best, going 0-4 before coming back with 2 wins. They're still 1st place in a crappy division, but haven't shown they could hang with the best yet
AI's play has been nothing but stellar. He's been dropping 34, 37, 43, 42 pts a game and leading the L in scoring (34.1). So far, it's been one of his best seasons yet (out of all his 10 season, see 10 years of AI) It just shows you how much he's flourishing under Coach Mo Cheeks. But the Sixers' biggest problem is Defense. Sixers are 3rd in Points Against them (102.7) and seem to lose their leads in game easily. Their wins usually come with outscoring their opponents. It's fun to watch, but in the end it's defense that wins games (eg. Pistons, Spurs) It's quite contrast of the Sixers back in '01 under Coach Larry Brown. The Sixers were the top defensive team in the East, and teams would fear playing Philly because of their stingy defense.
Sixers are still 1st in the weak Atlantic Division, but have yet to show they can compete with some tougher competition. Let's see if they can get into their championship form as the season continues
Philadelphia 107, New Jersey 95
AI's Stats: 42Pts (15-28), 12Ast, 5Reb, 4Stl, 47min
EAST RUTHERFORD, N.J. (AP) -- Allen Iverson and Kyle Korver are developing their own version of the two-man game for the Philadelphia 76ers.
Iverson scored 42 points and Korver came within a point of tying his career high with 25 on Saturday night to help the 76ers beat the New Jersey Nets 107-95 in the first game of the season pitting the top two teams in the Atlantic Division.
A night earlier, the perennial All-Star guard and the third-year forward combined for 69 points in a 119-115 victory over Charlotte that snapped Philadelphia's four-game losing streak.
Korver tied his career high with 26 points in that game, and on Saturday continued his roll with 13 points in the first quarter including three 3-pointers. He finished the game 10-for-11 from the field, with all but two of his baskets coming on shots of 17 feet or farther.
"My legs felt good and the guys were looking for me," Korver said. "If I can hit my first few shots, it makes it a lot easier."
Korver and Iverson offset 26 points each for New Jersey's Vince Carter and Richard Jefferson. Jason Kidd had 14 points and nine assists for the Nets.
Korver put away the Nets in the fourth quarter after they had closed a 16-point deficit to 100-92 on Jefferson's two free throws with 4:08 left, though New Jersey had a part in its own downfall. Jason Kidd and Clifford Robinson each missed a 3-pointer after a defensive stop, and on Philadelphia's third possession, Korver knocked in a 27-footer to give the 76ers a 103-92 lead with 2:15 left.
"Kyle's just a shooter, and when Allen's going that way and Kyle's going that way, we are a tough team to beat," 76ers coach Maurice Cheeks said.
Against Charlotte, the 76ers lost 11 points off a 15-point lead in the final four minutes. On Saturday they never let the Nets get closer than eight after Jefferson's free throws.
"Tonight they had chances but they missed some shots," said Iverson. "This shows that once we get a lead in the fourth quarter, we can sustain it."
Iverson, who also finished with 12 assists, had 35 points through three quarters and scored eight points in the final 2:36 of the second quarter to help the 76ers take a 54-49 lead at halftime.
In the third quarter, he and Korver at times seemed to be playing a game of two-on-five as they scored 12 of Philadelphia's last 15 points to give the 76ers an 84-69 lead.
"When he's on, he's on," the Nets' Vince Carter said about Iverson. "But you have to regulate what the rest of the guys are going to do. Kyle Korver having a big game was the key more than anything."
The battle for supremacy in the Atlantic Division turned out not to be much of a battle at all as the 76ers outshot the Nets 57 percent (41-for-72) to 41 percent (35-for-85). Whether either team can claim any sort of supremacy in a division that now has no teams at or above .500 is another question.
At least Philadelphia took steps to correct its road woes by winning its third away game in 10 tries. New Jersey, meanwhile, has won four straight on the road after Friday night's win at Cleveland but dropped to 4-5 at
Notes
The biggest cheers of the evening came in the third quarter when former NFL players Dan Marino, Boomer Esiason and Shannon Sharpe, who were sitting at courtside, threw autographed footballs into the crowd ... The 76ers are 9-4 when they score 100 or more points
Philadelphia 119, Charlotte 115
AI's Stats: 43pts (15-32), 7Ast, 6Reb
PHILADELPHIA (AP) -- The Philadelphia 76ers let another lead slip away. Only this time, they still managed to win.
Allen Iverson scored 43 points and Kyle Korver tied a career high with 26, helping the Sixers end a four-game losing streak with a 119-115 victory over the Charlotte Bobcats on Friday night.
Philadelphia nearly blew a 15-point lead with 3:47 left, but held on to win for only the third time in 11 games.
"For whatever reason, we are giving up leads," Korver said. "We've got to do something different because we don't want to make this more of a pattern than it already is."
Andre Iguodala added 20 points and the starters had all but six points for the Sixers.
Emeka Okafor and Kareem Rush each scored 15 points for Charlotte, which has lost six in a row. The Bobcats are 1-11 on the road this season and 5-15 overall.
"We just got down and spent the whole game crawling back," Okafor said.
Iverson, who came in leading the NBA with 33.6 points per game, missed his first five shots. He finished 15-of-32 to record the 64th 40-point game in his 10-year career.
Charlotte cut it to 117-113 on a layup by Bernard Robinson with 1:12 remaining, capping a 14-3 run.
After John Salmons missed a layup, the Bobcats had a couple of chances to get closer, but former Sixers swingman Jumaine Jones missed a 3-pointer after Charlotte got an offensive rebound. Salmons turned it over on the ensuing possession, but Jones missed another 3 with 8.6 seconds left and Korver and Iguodala iced it with free throws.
"It might've been a good thing we won like that," Iverson said. "It showed us we can still win after giving up a lead."
The Bobcats closed within 103-93 midway through the fourth on a 3-pointer by Jones. But Iverson made a tough runner and sank a free throw to complete a three-point play.
Raymond Felton answered with a 3-pointer, but Iverson came back with a 20-footer and then hit a 3-pointer to make it 111-98 with 4:16 left.
Iverson electrified the crowd with a spectacular behind-the-back dribble and driving layup to put the Sixers ahead 90-73 late in the third.
"When you have a succession of games where you lost some close games, I think you have to win a game like that," Sixers coach Maurice Cheeks said. "We had to win like that to get over the hump."
The Sixers never trailed after taking a 13-12 lead on a hook shot by Chris Webber almost midway through the first quarter.
Philadelphia closed out the first half with an 18-7 run to take a 62-48 halftime lead. A dunk by Iguodala off an alley-oop pass from Iverson started the run and the two combined for another one during the spurt. Iguodala finished it off with a 3-pointer that barely beat the buzzer.
"The second quarter set basketball back 100 years," Bobcats coach Bernie Bickerstaff said. "That might have been the worst exhibition in basketball I've seen."
Notes
Charlotte C Primoz Brezec sat out with flulike symptoms. ... F Matt Barnes didn't play in his first game back with the Sixers. Barnes came to Philadelphia in the Webber trade last year and started this season with the Knicks. ... The Sixers play at first-place New Jersey on Saturday. ... Philadelphia is 8-4 when scoring 100 or more points. ... The Bobcats are 1-7 when allowing 100 or more
Milwaukee 88, Philadelphia 85
AI's Stats: 23 Pts (8-22) , 3 Rebs, 5 Assists
PHILADELPHIA (AP) -- Milwaukee sank all the free throws, grabbed all the rebounds and made the smart plays in the final minutes that Philadelphia simply couldn't convert.
That's why everyone was talking about the Bucks' impressive comeback at the end, instead of the one the slumping 76ers made earlier.
Andrew Bogut's go-ahead putback with 10.7 seconds left capped a frantic fourth-quarter rally and led the Bucks over the 76ers 88-85 on Wednesday night.
"We just grinded it out, made a few plays here and there and came out with the win," Milwaukee's Mo Williams said.
Michael Redd scored 24 points, and Williams sank two clutch free throws in the final minute and scored 16 for the Bucks, who blew an 18-point first-half lead before completing an impressive comeback of their own.
With Milwaukee down seven points with just over 2 minutes left, Redd got the Bucks rolling with two free throws and a layup that pulled them within three.
Then John Salmons foolishly fouled Williams on a 3-point attempt with 23 seconds left, and the reserve guard calmly made the first two and missed the last one to make it 85-84.
Samuel Dalembert blew his chance to give Philadelphia a needed cushion when he missed both free throws with 19 seconds left. T.J. Ford went the length of the court and missed his layup, but Bogut was there for the follow and an 86-85 lead.
Allen Iverson missed a wide open jumper and Redd hit a couple of free throws to seal the Bucks' third win of the season over the Sixers.
"It showed we know how to win down the stretch," Ford said. "Every time we got a good look, guys just made plays."
Iverson scored 23 points and Dalembert had 13 points and 12 rebounds, but the Sixers lost their fourth straight game.
"It's almost like we are freezing up when it starts to get to winning time," Iverson said. "Once you do that, you can't win basketball games. If we don't learn how to pull them out, then we can expect a lot of games like this."
The Sixers wiped out a 15-point halftime deficit in the third with one of their most energetic and efficient quarters of the season.
They opened the quarter with a 15-4 run that was keyed by Dalembert finally breaking free down low for some emphatic dunks.
Jamaal Magloire was whistled for a technical foul after he complained the referees missed a couple of fouls on his way to the basket. The Sixers seized on the call, with the slumping Chris Webber making the free throw and sinking an 18-footer from the right on the possession to tie the game at 62-all.
Dalembert was fouled on a nice basket from the block and made the free throw to make it 65-62 for Philadelphia's first lead since early in the game. Dalembert ended the quarter with another dunk, making him 4-for-4 in the quarter as the Sixers shot 60 percent and took a 71-65 lead.
"It's a shame that we lose a game like that after having to make a comeback like that," Sixers coach Maurice Cheeks said.
Webber had one of his worst games of the season. He went 4-for-15 for 11 points and six rebounds.
Looking for some sort of lift off the bench with top reserves Steven Hunter and Lee Nailon struggling lately, Cheeks got surprising production from seldom-used Shavlik Randolph.
Randolph, who hadn't scored than two points in a game in limited playing time, scored 10 points and had seven rebounds in 14 minutes.
The Bucks had only five baskets in the third after making 16 of 25 shots in the second, when they seemed poised to turn this one into a blowout. Redd hit two 3s and Charlie Bell added one during an 18-4 run, and a running jumper from Williams gave the Bucks their largest lead of the game, 48-30.
Notes
Former MVP Moses Malone has tutored the Sixers big men on rebounding. "He was impressive," Dalembert said. It didn't help. The Bucks outrebounded the Sixers 44-40. ... The Bucks outscored the Sixers on the break 25-8. ... Ford scored 12 points.
San Antonio 100, Philadelphia 91
AI's Stats: 37pts (15-32), 3Ast, 4Reb, 43min
SAN ANTONIO (AP) -- Even with the towering Tim Duncan on the roster, point guard Tony Parker has taken over as the San Antonio Spurs' biggest inside scorer.
All eight of Parker's baskets Saturday night came on layups, and the Spurs rallied in the second half for a 100-91 victory over the Philadelphia 76ers.
Two nights earlier in Dallas, 10 of Parker's 13 field goals came from within a few feet of the hoop, and for the season his 55.5-percent shooting looks a lot like what one would expect from a player much bigger than 6-foot-2.
"He's been playing All-Star basketball the entire year," Spurs coach Gregg Popovich said. "His maturity is really showing. He's always aggressive."
Parker finished with 20 points, one below his season average. He also had a season-high eight rebounds and seven assists in 34 minutes.
Allen Iverson, the NBA's leading scorer, topped the Sixers with 37 points.
The Spurs, down three at halftime, took control in the third quarter. They made 13 of 22 shots (59 percent) and scored 31 points, while holding Philadelphia to 18 points on 4-for-15 shooting (27 percent).
In the second half San Antonio shot 57 percent, nearly 20 percentage points better than the Sixers.
"Their execution down the stretch was the key," said Philadelphia coach Maurice Cheeks, whose team has lost six straight road games. "They advanced the ball quicker up the court than what we're normally used to."
After a pair of free throws by Andre Iguodala tied the score at 55 midway through the third, San Antonio went on a 17-3 run to build a lead that the Sixers didn't threaten the rest of the game. Brent Barry made the first of his four 3-pointers and Robert Horry added another during the run.
Tim Duncan scored 16 points and had 12 rebounds for the Spurs, who won their third straight. Barry had 14 points and Rasho Nesterovic 12, both season highs.
Iverson, guarded mostly by defensive specialist Bruce Bowen, had no field goals in the third. His only points in the period came on two free throws with 18 seconds remaining.
"I've played against (Iverson) and with him, so I know a little more on guarding him than Tony does right now," said Bowen, who spent half of the 1999-00 season with Philadelphia. "I feel that with my quickness, that if I give him space, I can beat him to the spot on defense."
Iverson scored 17 of the Sixers' 29 points in the fourth, when San Antonio's lead grew to as many as 18 points.
He said the referees bought into Bowen's reputation as a premier defender.
"They let him be as aggressive from the beginning to the end of the game," Iverson said. "They just let him get away with a lot of stuff, that's all it is."
Chris Webber had 11 points for Philadelphia, but he shot only 4-for-16, and Kyle Korver added 10. Webber also had 13 rebounds and Samuel Dalembert added 11.
San Antonio led for just 10 seconds of the first half, the time between a 3-pointer by Nick Van Exel that gave the Spurs a 9-8 lead and a short jumper by Iverson to put the 76ers back on top.
Philadelphia's margin grew to 10 at 35-25 on a 17-footer by Iverson midway through the second period. The Spurs, led by Parker, then outscored the Sixers 16-7 to pull within a point with about a minute left in the half.
Parker made three layups and hit a pair of free throws during that stretch and had 16 points at the break.
Webber made a jumper to give the 76ers a 44-41 lead at halftime.
Notes
San Antonio played its second straight game without swingman Manu Ginobili, who has a bruised right ankle. Michael Finley started in his place and scored five points. ... The Spurs had 27 assists, while the Sixers had only 13. ... Iverson has led Philadelphia in scoring in all of its 18 games this season. ... The 76ers are 1-4 with a starting lineup of Iverson, Webber, Dalembert, Korver and Iguodala
New Orl/OKC 88, Philadelphia 86
AI's States: 34pts (11-26), 9Ast, 3stl, 43min
By JEFF LATZKE, AP Sports Writer
December 3, 2005
OKLAHOMA CITY (AP) -- David West and the New Orleans Hornets got aggressive when it counted, and it helped them to their sixth win in eight games.
West scored 22 points, including a tiebreaking layup with 50.4 seconds left, to lift the Hornets to an 88-86 win over the Philadelphia 76ers on Friday night.
After struggling against Philadelphia's zone defense the entire second half, the Hornets scored the final nine points of the game to close out the win.
"We got stops down the stretch," West said. "We finally figured out a way to score some buckets and then we had them scrambling a little bit."
After a missed jumper by Speedy Claxton caromed off the rim and backboard, West grabbed the ball and put it back to give New Orleans an 88-86 lead.
Claxton drew a charging foul against Chris Webber on Philadelphia's next possession, but Desmond Mason's miss gave the Sixers one last chance. Andre Iguodala grabbed the rebound and passed to Allen Iverson, who rushed up the court and missed a 3-pointer from the left wing as the buzzer sounded.
"Honestly, it was a good look. It didn't get blocked or anything and I got it off in time, but I knew it wasn't good as soon as it left my hand," said Iverson, who matched his NBA-leading scoring average with 34 points.
The Hornets (8-7) have now won six of their past eight games, and the Sixers (8-9) have lost six of eight.
"We really don't have anything to lose," West said. "I think all of the pressure's on every team that plays us. We don't feel any pressure."
After averaging 12.9 points in New Orleans' first seven games, West is averaging 18.8 over the past eight.
"Teams feel like they have wins against us," West said. "Teams see us on the schedule and think, 'This is a win."'
Webber said he thinks the difference in the Hornets this season is that Byron Scott -- in his second year as coach -- has had time to indoctrinate the team with his winning ways.
"The funny thing is they're not more talented than they were last year," said Webber, who had his ninth double-double with 24 points and 10 rebounds. "You just can't replace a Baron Davis and a big fella like what they had (with Jamaal Magloire). He was an All-Star.
"Hopefully, that should say a lot about their team. Hopefully, they'll take it that way. They're doing it with not the same talent that they had."
The 76ers had their biggest lead of the game at 82-74 after Iverson's two free throws with 4:59 left.
New Orleans started chipping away at the lead with J.R. Smith's 3-pointer from the left wing, and Chris Paul pulled the Hornets within 86-83 when he grabbed a loose ball and raced up court for a layup.
After Smith missed two potential game-tying 3-pointers, Mason took a pass from Claxton and was slammed hard to the floor as he dunked over Samuel Dalembert with 1:28 left. He stayed face down on the ground for a few moments before teammates huddled around to help him up.
His free throw tied the game at 86, and Webber missed a jumper on Philadelphia's following possession to set up West's game-winner.
West also scored six points during a 10-0 first-quarter run and his two-handed jam gave New Orleans an 18-14 lead.
New Orleans then scored the first five points of the second quarter and took a 33-23 lead on P.J. Brown's jumper from the right elbow.
The Hornets continued to extend their lead with back-to-back dunks by Mason and Smith, and Paul's 3-pointer from the left side made it 50-36.
The Sixers eliminated New Orleans' 13-point halftime lead with a 19-5 run to open the second half. Against Philadelphia's zone, the Hornets settled for outside shots and forced attempts late in the shot clock, going 2-for-13 to start the second half, including four missed 3-pointers.
After shooting 21 free throws in the first half, New Orleans got to the foul line only twice in the third quarter and Philadelphia took a 60-59 lead on Kyle Korver's 3-pointer from the right wing.
Notes
The Hornets have more wins against Philadelphia (40) in their 17-year history than against any other team. The Hornets are 40-25 against the 76ers. New Orleans has 38 wins against Milwaukee and Washington. ... Mason, who played at Oklahoma State, made his first start in Oklahoma City as Bostjan Nachbar missed his second straight game with a sprained right knee.
---