Posted on by Dal

---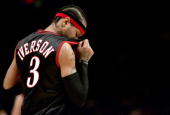 Iverson gave another stellar performance at the famous Madison Square Garden, with 40 points and 10 assists, but it was 5-9 Nate Robinson who played the hero with a buzzer-beating 3-pointer that lifted the Knicks to a 105-102 overtime victory over the 76ers on Saturday. It was another case where the Sixers gave away their lead from poor defending and rebounding.

Sixers bounced back with an easy victory over Mo Cheek's former team. Iverson scored 38 points and Chris Webber had 16 points and 15 rebounds, leading the Sixers over the Portland Trail Blazers 107-83 on Tuesday night. "Scoring is not our problem," Iverson said. "We have to work on other areas, rebounding and defense."



New York 105, Philadelphia 102, OT
Preview - Box Score - Recap

By VIN A. CHERWOO, AP Sports Writer
November 26, 2005

NEW YORK (AP) -- After playing poorly in the first half, the New York Knicks went with a smaller lineup and came up with their biggest win of the season.

A buzzer-beating 3-pointer by 5-foot-9 Nate Robinson lifted the Knicks to a 105-102 overtime victory over the Philadelphia 76ers on Saturday.

Stephon Marbury scored a season-high 33 points and rookie Channing Frye added 21 points and 11 rebounds for New York, which rallied from a 16-point deficit in the third quarter and then squandered a nine-point lead in the fourth.

"We got really aggressive, especially when we went small," Knicks coach Larry Brown said. "We got loose balls, we didn't turn the ball over and we got second shots. We really hurt them on the boards."

Allen Iverson had 40 points and 10 assists, and Chris Webber scored 19 points for Philadelphia, which has lost four of five. Webber tipped in Iverson's miss with .6 seconds left to send the game into overtime.

The 76ers, who trailed by six in overtime, tied it on Iverson's 3-pointer with 6.2 seconds remaining. The Knicks pushed the ball up the court and Robinson took a 23-foot jumper from the right side just before the buzzer.

"I just knew if I get it up high enough I would have a good chance of making it," Robinson said. "So I just shot it hard and let it go."

"The sky's the limit for him," Iverson said. "He's a tough guard. He's got the best coach in the world on his side."

New York, outplayed in the first half, outhustled and outworked the 76ers for a key 16 1/2 -minute stretch in the second half.

After Kyle Korver's 3-pointer pushed Philadelphia's lead to 63-47 a minute into the third quarter, New York went on an 18-2 run to tie the game at 65 on Marbury's short jumper with 3:27 remaining in the period.

"At halftime, coach got on us because he felt like we had been playing very sloppy," Knicks rookie Channing Frye said. "We got out in the second half and took care of the ball, played some defense and made some shots."

Iverson's 20-footer briefly regained the lead for the Sixers before Marbury hit a 3-pointer to give New York its first lead of the game. Marbury's 22-footer increased the Knicks' lead to 70-67 with 1:53 left in the quarter.

"They made adjustments," Webber said. "They just played better than we did in the second half. But there's no excuse for a (16-point) lead going down like that. It hurts when you play that well together in the first half, and in the second half you don't do it."

New York pushed its lead to 83-74 on Robinson's 3-pointer with more than 5 minutes left in the game. However, Iverson scored 10 points during a 13-4 run to tie the game at 87 with 1:42 left.

The Knicks regained the lead 18 seconds later on a goaltending call on Samuel Dalembert, and Jamal Crawford's turnaround jumper with 47 seconds left gave New York an 91-88 lead.

Webber's hook shot 12 seconds later made it a one-point game, before Marbury followed with a driving layup to make it 93-90 with 19.9 seconds remaining.

"They played better offensively and we did a bad job guarding," Iverson said. "We had a chance to put them away but we have been going through this the last couple of games, having leads and giving them up."

Andre Iguodala's two free throws pulled Philadelphia within 93-92 with 10.8 seconds left.

Crawford made one free throw with 8.7 seconds left, and Webber's tip sent the game to overtime.

Notes

Frye made his first NBA start. ... Penny Hardaway, Matt Barnes, and Jerome James were inactive for the Knicks. ... New York, which had lost three of its previous four, won its second straight at home. ... Dalembert made his season debut after missing the first 11 games with an injured right quadriceps. ... Jamal Mashburn, Louis Williams and Den Gai were inactive for the Sixers. ... Anthony Fedorov, a finalist from last season's "American Idol," sang the national anthem before the game. ... Celebrities in attendance included former tennis star John McEnroe, and actors Edward Norton, Rosario Dawson, Chazz Palminteri and Steve Schirripa.



Philadelphia 107, Portland 83
Preview - Box Score - Recap

By ROB MAADDI, AP Sports Writer
November 29, 2005

PHILADELPHIA (AP) -- Allen Iverson sprinted up court, grabbed an opponent's jersey and got the stoppage he needed to leave the game.

By that time, the Philadelphia 76ers were on their way to an easy victory and Iverson got needed rest the final four minutes.

Iverson scored 38 points and Chris Webber had 16 points and 15 rebounds, leading the Sixers over the Portland Trail Blazers 107-83 on Tuesday night.

"I was frustrated with myself in the sense that I was missing easy shots," said Iverson, who finished 16-of-27 after missing six of his first seven shots. "I just had to make a conscious effort to go harder (to the basket) and concentrate. Then I got in a rhythm."

Kyle Korver added 16 points for the Atlantic Division-leading Sixers (8-7). Philadelphia had lost four of its previous five games after winning six in a row.

Zach Randolph scored 24 and Darius Miles had 13 for Portland, which has lost five of seven.

"They got a good push from the start and we got beat on the boards," Randolph said.

The Sixers outrebounded the Blazers 60-30, including 21-4 on the offensive end.

"I thought our focus the last couple days was rebounding and playing defense, and it showed," Sixers coach Maurice Cheeks said.

Philadelphia leads the NBA in scoring with an average of 104.0 points per game, but came in 28th in points allowed.

"Scoring is not our problem," Iverson said. "We have to work on other areas, rebounding and defense."

It was the first game for Cheeks against his former team. Cheeks coached the Blazers nearly four seasons before he was fired last March. In May, he returned to Philadelphia, where he starred on the Sixers' championship team in 1983.

Iverson, Webber and the rest of the Sixers got off to a slow start. The duo missed a combined 12 of 13 shots in the first quarter, and Philadelphia shot just 28 percent (8-for-29) in the opening 12 minutes. But the Sixers led 23-20, largely due to plenty of second chances thanks to 18 rebounds.

"We're going to score points. If we can rebound like that, we're going to be all right," Korver said.

Philadelphia built a double-digit lead in the second quarter and maintained it the rest of the way.

Andre Iguodala started a 13-5 run with an alley-oop dunk off a pass from Iverson. Korver hit a 3-pointer during the stretch and Iguodala had another dunk, before John Salmons finished it off with a jumper, giving the Sixers a 58-42 lead at halftime.

The Blazers got no closer than 11 in the second half.

"I thought they were quicker to the ball," Blazers coach Nate McMillan said. "Giving up 21 offensive rebounds, it's tough to stay in the game. We looked like a tired team. They were pounding us from the start."

A crowd of just 12,676 turned out at the Wachovia Center, the third-lowest total this season. A once-hot ticket in town, the Sixers are struggling to draw fans, despite leading their mediocre division.

Notes

: Sixers C Samuel Dalembert played his second game after missing the first 11 with an injured right quadriceps. He had four points and eight rebounds in 21 minutes. ... The Sixers began a stretch of four games in four cities in five nights. It's the third time they'll play four games in five days already. ... Blazers assistant coaches Dean Demopoulos and Monty Williams have Philadelphia ties. Demopoulos was an assistant under Hall of Fame coach John Chaney at Temple for several years. Williams played for the Sixers in 2002-03. ... Portland had won five of its previous six games in Philly.



---